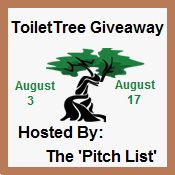 I like to pluck in the shower. I find it is less painful if my pores have opened up after standing in the warm steamy water for a while. But it's difficult to hold a mirror and pluck at the same time!
When I was offered the chance to review something from ToiletTree Products, I jumped at the chance to check out the
Deluxe LED Fogless Mirror
. I thought this would be a perfect solution to my plucking problem!
(No you don't get pics of me plucking in the shower!)
The mirror was easy to put together and even easier to install. Here is a little tip, after cleaning the shower wall, wipe it down with a little rubbing alcohol. This will make it dry faster and remove any impurities that may be sticking to the wall. The secret to the fogless action is filling the mirror with warm water before you use it. The mirror is surrounded by LED lights so you have a great view of what you are doing.
In addition to the mirror
ToitletTree Products
offers a full selection of accessories for your bathroom.
One Kids are Grown reader will win the ToiletTree Fogless Mirror. Make sure you check out the linky when you have finished and enter 38 more ToiletTree Product Giveaways!
a Rafflecopter giveaway