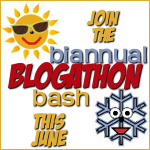 Friday was my first time joining the
Biannual Blogathon Bash
. I had set some goals for myself and I actually accomplished them all! Woohoo! Yay, Me!
I am sure you are wondering what I did with all this time spent in front of the computer. Well, I cleaned up my sidebar. I learned how to create a
Favicon
. I learned about some really cool tools that I will be using for my blog. I learned how to use Twitter more effectively. I met some incredible bloggers. I got a bunch of reviews done and new giveaways posted. All in all I am pretty proud of myself!
Thank you, Kathleen owner of
Callista's Ramblings
. Kathleen organized the whole shebang and did a pretty damn good job of it too! I can't wait for the next one!