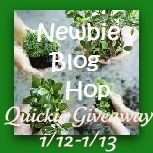 When you're a Newbie Blogger, one of the most important things you can do is connect with other great bloggers who want to help and are willing to share their tips and tricks. The Newbie Blog Hop started so that we could connect with other Newbies and learn together!!
If you are a Newbie Blogger - or you "feel" new - come join us!!
A few of us have gathered together to bring to YOU a great Quickie Giveaway!!
Giveaway Hosts:
Prize Pack #1
$5 Best Buy - $5 Amazon - $25 Similac checks (5-$5 checks) - $5 Amazon - $5 gift card to DiaperJunction.com - Small Space Organizing Book by Kathryn Bechen - 3 SmartSource Coupon Inserts (01/08) - Four (4) 7th Generation coupons valued at $1 each
Prize Pack #2
$5 Paypal - $5 Paypal - $5 Paypal - $5 Amazon - $5 Amazon - MyMemories Suite Software
Here's what you need to do before heading to the Rafflecopter:
There is only ONE mandatory entry - Tell us if you are eligible for US/CAN prize pack or only for the WW prize pack.
For extra entries, you can do these:
(1) Follow ALL of these pages on Facebook
**Ms Angelas Finds**
**The Kids Are Grown, Now What?**
**Bay Area Mommy**


**Hardly a Housewife**


**Life With Captain Fussybuckets**


**A Life Full of Laughter**
**A Year of Jubilee Reviews**
**June Bug Mom**


**Life's Cheap Thrills**


**Been There Done That With Kat**


**The It Mom**


**the ABC KidZ**


**GoingCrazy!!WannaGo??!!**
(2) Follow ALL of these pages on Twitter
(3) Add these pages to your Google+ circles
(5) Subscribe to email/RSS
Just enter on the Rafflecopter below!!
Good Luck!!
a Rafflecopter giveaway