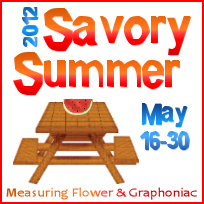 My friends over at
Measuring Flower
and
Graphoniac
share my passion for food! Which is why they are teaming up to bring you an incredibly awesome blog-hopping giveaway event called Savory Summer!
Savory Summer will feature all things food related that can be enjoyed during the summer. So, if you can eat it, eat off of it, cook with it or prepare food with or on then it belongs in the event!
Seeking an Event Sponsor
We are currently seeking a food-related business (can be a business that sells food itself, appliances, food utensils, etc.) to sponsor this event. Ideally, our sponsor will provide a food-related grand prize for our readers (can be a gift certificate) and a prize for our participating bloggers. In exchange for sponsoring our event, we will offer you advertising in the form of:
Your logo on each of the Savory Summer banners and buttons
Hyperlinks announcing you as our sponsor on each participating blogger's blog
Do-follow entry methods (encouraging entrants to visit your website and follow your social networks) in your grand prize and blogger prize giveaways (giveaways will be hosted from the hostess's blogs)
complimentary 125 by 125 premium sidebar advertising on Measuring Flower and Graphoniac from the time you agree to sponsor to the end of June, 2012
If you own or work for a food-related business and are interested in sponsoring our event, please contact me (TJ) via my PR contact form. I look forward to working with you!
Seeking Bloggers:
Bloggers, ready to join us? Read on to learn more about this delicious event!
Blogger Requirements
You must have a family-friendly blog (if it's safe for an 8-year-old to read and look at, it's family-friendly).
**IMPORTANT** This event is FREE to participate in, but you must write a post seeking bloggers to participate in this event (we'll ask for the link to this post in the sign-up form). Be sure to use at least one of the buttons or banners in your post and link back to this post (the one you're reading).
Post one of the Savory Summer buttons or banners (each image's size can be tweaked to fit your blog; ask if you need help) on your sidebar or above the fold on your blog.
You are responsible for providing a giveaway prize worth a minimum of $25 that is food or food-related (PLEASE, nothing for animals and NO Restaurant.com gift certificates; also, if you have any doubt about a particular item being a good prize, please ask one of your hostesses via email or on the Facebook group). You can obtain sponsors or provide a prize out of pocket–we just ask that it be a minimum of $25.
You are allowed to have a maximum of TWO prizes/prize packs so long as each is worth the $25 minimum.
Join the Facebook group (link is in the sign-up form; we also ask for your Facebook name so non-participants can't join the group)
If you are a blogger interested in participating then go
go here to sign up!